---
Do You have problem with finding service manual to cell-phone, which You want to repair?

Can't You advise with discovering and repair of fault?

Do You need list of parts used in Yor cell-phone?

Are You looking for accommodation of elements on motherboard of your cell-phone?

Don't You want to waste your time on searching of schemes in internet??

Do You want to have access to all schemes 24 hours per day?

Do You have problem with finding of schemes of F-Bus or USB service cable?

Does Your phone does not enter on service cable in Local Mode?

Do You have problem with localization of test-points in cell-phones?

Can't You repair service cable for Your Box?

Do You search software for Nokia from BB5 series?

Do You value Your time?
---
This service is made exactly for You !!!
--->>> www.service-gsm.eu <<<---
This is the biggest, free database with GSM service manuals !!!
---
This offer is directed for GSM services equal, as well as for private users. I offer You access to very speed FTP server , on which are placed 7500 service manuals for cell-phones (Service Level 1-4). The list of schemes is available HERE.

You receive also access to schemes of F-Bus for JAF, MT-Box, UFSx, Multi-Box service cables.

You can download the list of schemes for individual boxes below:

Additional, completely for nothing, You will receive access to service manuals for cell-phones and access to photos of service solutions (3200 photos!).
---
As next FREE of charge I add link to program with all versions of flash fle for Nokia.

In that link are placed the newest versions of software which are inaccessible on box supports!

In program are softwares for cell-phones based on BB5 platform.

We can download apart MCU and PPM files.

You don't have to download whole software and save Your precious time!

You can download program HERE.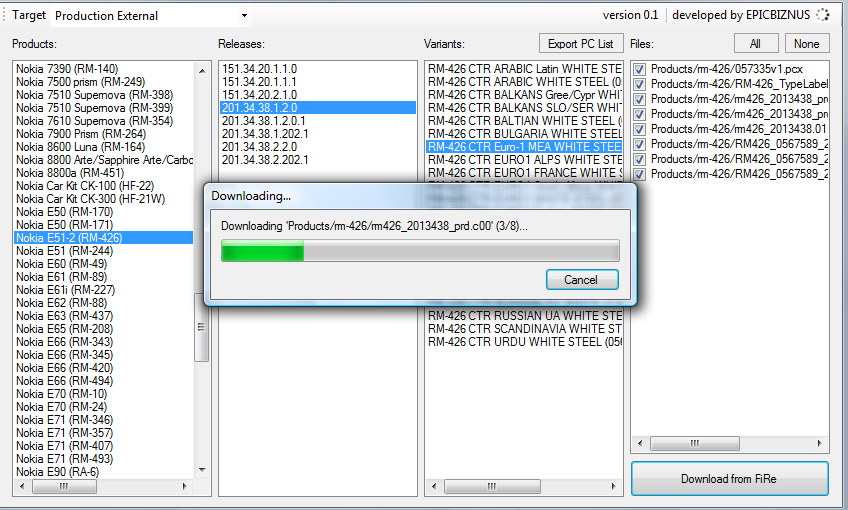 ---
Important! Every user can download 3 schemes per day. The numerator is reseted after midnight every single day.

The schemes are not repeated. There are placed service manuals for all newest cell-phone for example: Nokia N8, E72, E75, iPhone 3GS, HTC, Samsung i9000, etc.
The website spreads out all the time. Soon will apear new schemes for Plasma TV, LCD, notebooks, monitors and other electronical devices.

---
If:
Can't You log-in?

Do You have problem with finding service manual for you cell-phone, which is not on the list?

Can't you unpack Your archive because is broken or saved with password?

Is Your document unable to open?

Do you have some other questions about service?

Is there something that is not clearly written?

Do You have some ideas, new sugestions about server?

Do You have scheme, which is not on website?

Contact me via email: marcin@service-gsm.eu. I will answer willfully :-)
I think, that every interested person will exactly know how valuable these schemes are and will appreciate work that i had to execute to gather all these materials.
---
IMPORTANT !!!
All the materials which are placed on server are the ownership of companies producing electronic equipment and are available in internet for free. I don't break the law placing them on my server. I offer them entirely for nothing :).

---